Vol 1 No 1 (2014)
Articles
DOLL THERAPY IN DEMENTIA CARE: A REVIEW OF CURRENT LITERATURE.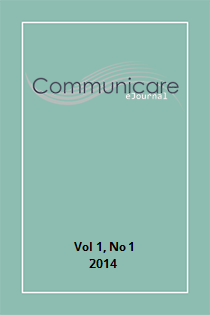 Published
November 12, 2014
How to Cite
Turner, F. and Shepherd, M. (2014) "DOLL THERAPY IN DEMENTIA CARE: A REVIEW OF CURRENT LITERATURE.", Communicare, 1(1). doi: 10.48525/cc-2014-id112.
Abstract
Older people within the UK who suffer from dementia are a growing service user group. Despite this a lack of knowledge and research into effective methods of intervention persists. One relatively new approach is doll therapy. Empirical research within this field has thus far delivered promising results, across the UK (primarily England), and in a global context within Australia and the USA. The intervention is based on findings related to earlier research into toy therapy, and has groundings in key theories relating to older age.
Doll therapy (DT) is the process of utilising baby-like dolls in therapeutic encounters to create positive outcomes for the older person with dementia. Thus far, researchers have identified four main needs-based outcomes through the use of dolls: to initiate and encourage interaction, to fulfill attachment needs, to act as a transitional object and to provide sensory stimulation through activity. These themes and the theories that underpin them will be explored and evaluated individually to give an overall view of the value DT can bring within social care practice.
Overall the review found that although most results are positive there are potential difficulties and limitations in the use of dolls. Similarly individuals, families and professionals may have negative perceptions of DT, its effectiveness and its appropriateness. Throughout examination there is a clear link to DT's relevance within community care practice.