Vol 1 No 2 (2015)
Articles
Exploring factors contributing to the outcomes of Looked After Children.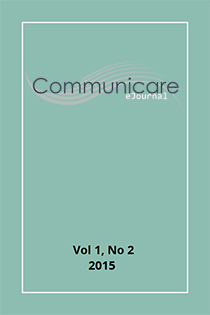 Published
November 17, 2015
How to Cite
Morrison, R. and Shepherd, M. (2015) "Exploring factors contributing to the outcomes of Looked After Children.", Communicare, 1(2). doi: 10.48525/cc-2015-id106.
Abstract
The need to improve outcomes for looked after children has been a long standing concern within Scotland. Looked after and accommodated children are some of the most vulnerable members within society. Recent literature and media highlight that often these children have poor outcomes in comparison to children within the general population. This paper explores and analyses the outcomes for children and young people who have been accommodated by the local authority. The main outcome areas which have been explored are: mental health, education, teenage pregnancy and offending. The literature suggests that looked after children and young people face difficulties and inequalities within and across all these areas.  The paper provides analysis of each outcome area and offers insight into the contributing factors causing these difficulties. Some commonalities emerged. Young people's experiences highlight concerns in relation to placement stability, relationships with others, involvement in decision making, and lack of support for care leavers. The assimilated literature and experiences of young people helped to form a greater understanding of how to assist in improving the outcomes for this disadvantaged group.